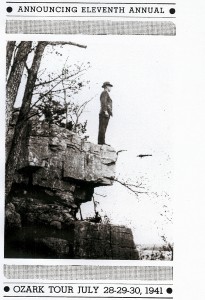 Why Illinois Ozarks?
When you think of the Ozarks most envision the hills and hollows of northern Arkansas and southern Missouri. In fact the same range crosses the Mississippi River and forms some of the most beautiful scenery in the nation right here in southeastern Illinois.
Newspaperman L.O. Trigg, known as Col. Trigg, recognized the potential for this part of Illinois in the early 1930s when he began organizing an annual "Ozark Tour." Each year a group of about 20 men would spend three days traveling with Col. Trigg visiting unique sites in the area. Many of the locations visited are now part of Illinois State Parks or the Shawnee National Forest. Col. Trigg recognized the importance of sharing the natural beauty of southeastern Illinois with others and was instrumental in building support for the Shawnee National Forest.
Col. Trigg was part of a movement to promote the area as the Illinois Ozarks. Today we have embraced the spirit of Col. Trigg and others as we continue invite visitors to "Experience the Illinois Ozarks."
Iron Furnace
Following the Revolutionary War Americans moved west across the new country into the frontier beyond the eastern mountains. Travel was treacherous and spare parts were hard to come by. A broken wagon wheel or rifle trigger meant certain death for a pioneer and his family. Advertisements such as the following were common wherever newspapers were printed on the frontier:
if some "portable" blacksmith will move his shop into this vicinity, he can get a very large and paying custom.
Blacksmiths were in much demand on the frontier. Transportation of the needed iron to the inland settlements was costly and difficult. It was therefore feasible and financially advantageous for local people to erect furnaces and ironworks wherever the necessary ore was located.
More…